SI OU RENMEN TRAVAY N'AP FE AN RENMEN (Like) NOU SOU FACEBOOK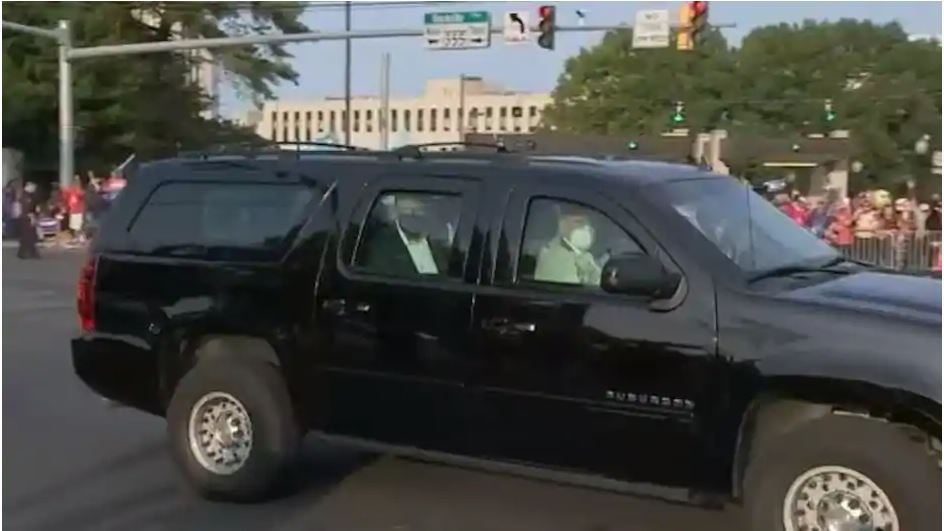 WASHINGTON DC – Un médecin de l'hôpital Walter Reed, où est soigné le président américain Donald Trump, est scandalisé par la «visite surprise» du dirigeant à bord de son cortège pour aller saluer ses partisans, dimanche.
Le Dr. James P. Phillips a vivement dénoncé sur Twitter cette séance photos à bord du véhicule de Trump, au cours de laquelle il aurait mis en danger la vie de ses agents de sécurité qui l'ont accompagné.
«Chaque personne présente dans ce véhicule pendant cette sortie complètement inutile doit être mis en quarantaine pendant 14 jours. Ils pourraient tous tomber malade et ils peuvent en mourir, pour une mise en scène politique. C'est de la folie», a tweeté le Dr. James P. Phillips.
That Presidential SUV is not only bulletproof, but hermetically sealed against chemical attack. The risk of COVID19 transmission inside is as high as it gets outside of medical procedures. The irresponsibility is astounding. My thoughts are with the Secret Service forced to play.
— Dr. James P. Phillips, MD (@DrPhillipsMD) October 4, 2020
Phillips est le médecin en chef du département d'urgence de l'hôpital militaire Walter Reed depuis trois ans.
«Ce VUS présidentiel est non seulement à l'épreuve des balles, mais hermétiquement scellé contre les attaques chimiques. Le risque de transmission de la COVID-19 à l'intérieur est aussi élevé que s'il n'y avait aucune mesure de protection. L'irresponsabilité est stupéfiante», a ajouté le Dr. Phillips dans un autre tweet.
Every single person in the vehicle during that completely unnecessary Presidential "drive-by" just now has to be quarantined for 14 days. They might get sick. They may die. For political theater. Commanded by Trump to put their lives at risk for theater. This is insanity.
— Dr. James P. Phillips, MD (@DrPhillipsMD) October 4, 2020
Zeke Emanuel, expert à la télévision et président du Département d'éthique médicale et de politique de la santé de l'Université de Pennsylvanie, a tweeté pour sa part: «Faire conduire ses agents des services secrets avec un patient atteint de la COVID-19, qui plus est avec des fenêtres fermées, les expose inutilement à un risque d'infection. Et pour quoi? Un coup de pub».
Source/TVA Nouvelles
Photo/TVA Nouvelles
www.anmwe.com